Start : 2020/11/10 18:00
End : 2020/11/10 20:00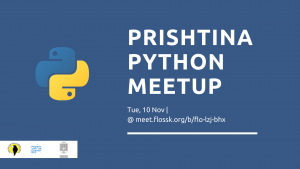 Prishtina Python Meetup
10 nëntor 2020 në 18:00 në https://meet.flossk.org/b/flo-lzj-bhx
Entuziastë dhe profesionistë të python kanë vendosur që të fillojnë një seri takimesh të quajtura "Prishtina Python Meetup".
I ftojmë të gjithë ata që punojnë në python dhe që deshirojnë të mësojnë më tepër rreth python të na bashkëngjiten në meetupin e parë online.
Takimi është jo-formal me diskutim të lirë dhe ju inkurajojmë të prezantoni apo hapni diskutim për çfarëdo teme të caktuar që lidhet me python. Gjithashtu, gjatë këtij meetupi do të mundohemi të krijojmë një kanal të komunikimit që të kemi meetups dhe prezantime te vazhduesheme në muajt ne vijim.
Ky meetup është inicuar nga antarët e Prishtina Hackerspace dhe përkrahur nga Komuna e Prishtinës.
–
Prishtina Python Meetup
10 November 2020 at 6:00 PM on https://meet.flossk.org/b/flo-lzj-bhx
Enthusiasts and professionals of python have decided to begin a series of meeting called "Prishtina Python Meetup".
All those that work with python and want to learn more about it are welcomed to join us on the first online meetup.
The meeting is informal with free discussions and we encourage you to present or discuss anything related to python. During this meetup we will also try to create a communication channel in order to hold meetups and presentations in the upcoming months.
This meetup is initiated by the members of Prishtina Hackerspace and supported by the Municipality of Prishtina.