Start : 2023/05/11 17:00
End : 2023/05/11 18:00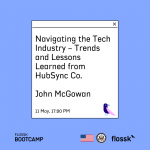 Session: Navigating the Tech Industry in 2023: Trends & Lessons Learned from the Frontlines , by John McGowan, CEO of HubSync Co
🖥️ The technology industry is constantly evolving, and navigating this landscape can be exciting and challenging for start-ups.
In this interactive Q&A session, John McGowan, CEO of HubSync, will share his insights and experiences on entrepreneurship, the start-up journey for his software company HubSync, lessons learned along the way, and technology trends in the industry. John will provide insights into the challenges and opportunities that come with starting and growing a business from the ground up, in the tech industry, and share his perspective on the trends and innovations shaping the industry's future.
Whether you're an aspiring entrepreneur, a business owner, or simply interested in the tech industry, thissession is an excellent opportunity to learn from someone with firsthand experience in starting and building successful businesses in this space.
During the Q&A panel, John will be joined by local team members Altin and Shpetim, who will be providing their experience & insight about the topics covered in this session.
📆 Session will be held at Prishtina Hackerspace from 17:00 on 11th of May 2023.
⚫ HubSync Co. is U.S. based software company that provides data integration solutions for businesses. Their platform allows companies to connect different systems, applications, and databases and synchronize data between them. HubSync aims to help businesses improve their data quality, increase efficiency, and drive growth through better data management.
⚫ John McGowan
After 25+ years driving technology innovation & investment at the Big 4 US Accounting Firms, Deloitte and KPMG, John launched a tax technology consultancy to develop next-generation solutions to modernize standard tax preparation processes. John then launched HubSync with the goal of changing how tax professionals work and how clients interact with CPA firms.
Prior to HubSync, John was the Partner-in-Charge of Tax Technology at Deloitte, developing sophisticated Tax applications and platforms. He managed a team of technologists using the latest software engineering techniques and architectures to deliver business value and drive digital transformation. John started his career at KPMG, where he was the Global Chief Information Officer and managed a technology team of over 500 professionals along with over 300+ vendor resources.
John has a BSBA and Masters of Accounting from the University of North Carolina at Chapel Hill.
Call for participants will be open until 🗓️ May 09, 2023.
Maximum nr of Participants 20, first come, first served basis!
This activity is part of the FLOSSK Bootcamp, supported by the U.S. Embassy in Kosovo and implemented by FLOSSK.
This session will be held only in English*