Start : 2023/10/12 17:00
End : 2023/10/12 18:30
Training: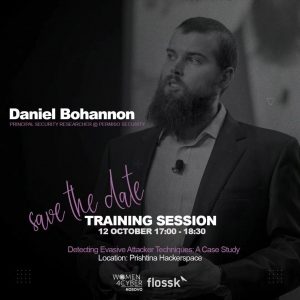 Daniel Bohannon
17:00, 12 October @ Prishtina Hackerspace
Together with @women4cyberkosovo we are happy to bring you an in-person event featuring a seasoned industry professional, Daniel Bohannon, Principal Security Researcher at Premiso Security, all the way from the USA.
You will learn more about how to:
Deep dive into threat hunting, detection development, and defensive research.
Real-world attacker evasion techniques unveiled.
Shifting your detection mentality to identify malicious activity in the wild.
Exploring the power of today's leading detection tools.
Don't miss out on this eye-opening presentation that promises to equip you with the knowledge and tools to bolster your cybersecurity defenses.